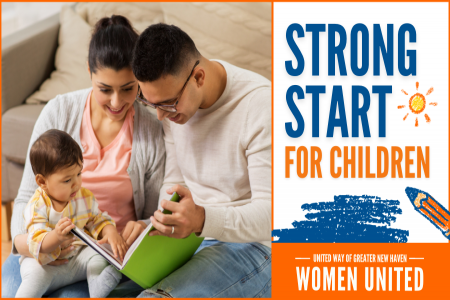 We invite you to participate in our 2024 Strong StartS for Children fundraiser to invest in our future.
Strong Starts for Children is a fundraising campaign led by Women United to support the Secure Start Expansion program. 
THE GOAL
To equip more parents and educators with the tools they need to create secure, healthy, and nurturing relationships with children, who are our future! Our 2024 fundraising goal is $25,000. These funds will impact 750 children in Greater New Haven! To meet this goal, we'll need community members, your networks and you! 
LIKE TO SET UP A GIVING PAGE?
If you'd like to set up a personalized fundraising page, you can do that on our Strong Starts for Children page here! 
WAYS TO PARTICIPATE
Personal giving (payroll deduction and above and beyond gifts);   
Peer to peer fundraising (set up a page to inspire support for this important program)  
Sponsorships from your employer, professional groups, sororities, alumni groups, etc.   
THE STRATEGY 
Increase number of Circle of Security groups to 25 groups 
Expand audience / participation, including refresher groups and more Spanish language groups 
Continue to remove barriers to participation 
THE OUTCOME WE'RE AIMING FOR
The proven Circle of Security model can fundamentally change how people parent and care for children, and we want to take it to scale so all children can thrive.     
750 children impacted 
Stress levels reduced - Better relationships with children 
Join other women in leadership to take action in Greater New Haven
WOMEN UNITED
Passion. Power. Leadership.
Women from across the Greater New Haven community contribute time, energy and financial support to address our community's most pressing needs. With a focus on literacy, hunger and financial stability, we harness their passion, power and leadership to change the lives of individuals and families in our region.
Join the Movement
12
years of women volunteering - leading and lending a hand, in-person and virtually
$158,000
raised by Women United since 2011
 
530
learning kits provided to students at Dr. Reginald Mayo Early Childhood School
WOMEN UNITED BENEFITS
Meaningful Engagement
Align your volunteer efforts and contributions.
See Your Impact
Get a first-hand look at how your investment is supporting women and children.
Network with Leaders
Connect with community leaders who share your spirit of philanthropy.
A Global Movement
Join 60,000 women worldwide to create stronger communities.
Exclusive Events
Attend educational, social and volunteer events with other members.
Learn More About the Impact of United Way
Have a question? Would you like to learn more?
Contact our Senior Director of Development, Maria Angelita Gomez, at magomez@uwgnh.org or (203) 691-4223.